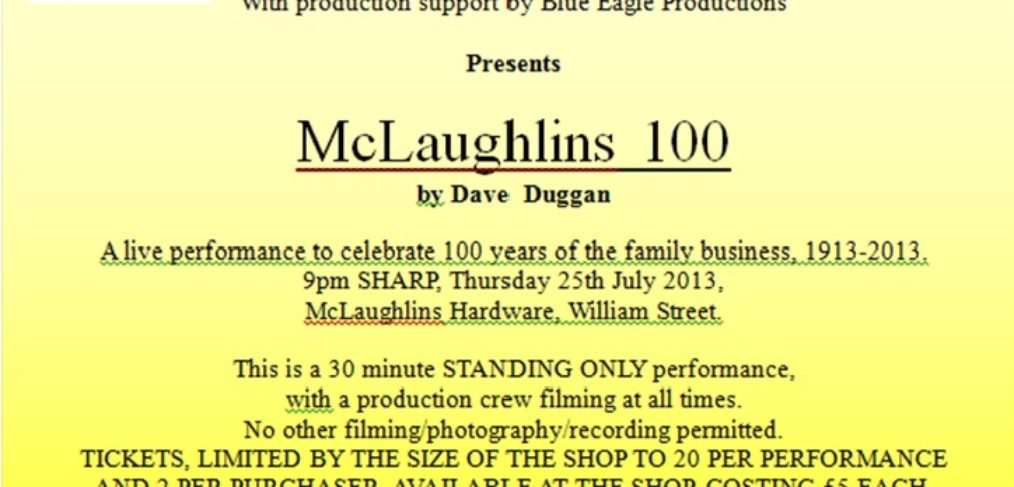 Store Celebrating 100 Year Anniversary With A Unique Event
Our store will be mark its 100th anniversary on the 25th July with a unique drama event held within the shop itself.
McLaughlins and Sons Hardware first opened in Derry in 1913 and the William Street store is now one of the most famous family run businesses in the northwest.
And to celebrate our milestone, we, the business's owners have teamed with up local playwright Dave Duggan for 'McLaughlin's 100', a 'site specific theatre piece' taking place on Thursday 25th July, with the store as its setting. Produced by Bluebell Arts Project and Blue Eagle Productions,  the work will present a series of incidents and stories from the past 100 years of our family business through the all-seeing magic eye of 'Red Maisie' who presents the future to James McLaughlin on his first day in his new business.
Admission to each 30 minute standing performance is strictly by ticket only, limited to 20 persons per performance costing £5 and available in store. Performance times are 3pm, 5pm, 7pm and 9pm.
Follow this link for Dave Duggan's interview on the show Pure Culture http://www.bbc.co.uk/programmes/b03706xg